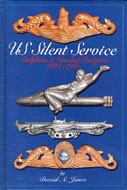 US Silent Service - Dolphins & Combat Insignia 1924-1945
After eight years of extensive research, the publication of this book is a submarine buff and collector`s dream come true. This beautiful full-color book chronicles, with period letters and sketches, the developmental history of US submarine insignia prior to 1945. It also contains many rare and never before published photographs, plus interviews with WWII submarine veterans, from enlisted men to famous skippers. Each insignia is photograhped (obverse and reverse) and magnified in color. All known contractors are covered plus embroidered versions, mess dress variations, the Roll of Honor, submarine combat insignia, battlflags, launch memorabilia and related submarine collectables (postal covers, match book covers, jewerly, posters, advertising art, postcards, etc) 224 pages - 532 photos.Price -$39.95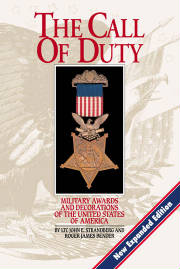 New
The Call Of Duty
Military Awards & Decorations of the United States of America
(NEW EXPANDED EDITION)
This monumental work, which has been long out-of-print, spans over two centuries and illustrates in striking color the evolution of U.S. military decorations from 1782 to the Global War on Terrorism Service Medal in 2003. In this comprehensive reference, not only are the obverse, reverse, and appropriate rim markings illustrated in full color, it also states eligibility for the award and gives historical background. An added treat are dozens of period photos of the decorations being worn. This new expanded edition is a result of continued years of research and upgrading of photographs, and has 176 more pages than the first edition. The authors have also been able to expand the coverage of known rim number styles and number ranges for Army, Navy, and Marine Corps campaign medals. With modern digital technology, all medals and ribbons have been color-corrected to give you the most accurate and detailed images. Although the first edition was highly praised, this new edition is without a doubt the best book ever done on the subject! Although there are an additional 176 pages of color, the publisher is holding to the price of the first edition printed a decade ago. Size: 9.5"x6.5",
pages 560 / 1,293 photos (most in color) / delux binding. Price - $69.95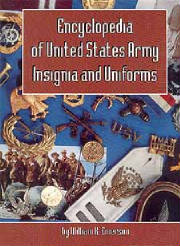 NEW
Encyclopedia of United States Army Insignia and Uniforms
This book is the first comprehensive, well-illustrated, fully researched, and completly documented history of U.S. Army branch insignia and the uniforms on which thoses insignia were worn. More than two thousand photographs illustrate the actual branch insignia used by men and women of the U.S Army during war and peace from American Independence to the present. This book tells the story of the major army branches - infantry, artillery, cavalry, and engineers - as well as the service and support branches comprising doctors and nurses, chaplans, musicians, quatermasters, military police, and the many others whom have made up the U.S.Army. Size 12"x9"x3", 680 pages, 2,595 b/w photos and illustrations. Price - $120.00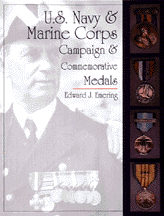 U.S. Navy and Marine Corps Campaign & Commemorative Medals
The campaign and commemorative medals of the U.S. Navy and Marine Corps frame an interesting evolution in our country`s military development and willingness to use this power on a worldwide basis. It traces their roots from our own Civil War to assuming the stature of the world`s super power. This work provides an in depth overview of not only the history and development of each campaign medal, but also the historical significance of the events surrounding the establishment of each campaign. Informative and insightful glimpes of some of the main characters in this history, like Dewey, Sampson, DeLong, Butler, Hanneken, Peary and Byrd are threaded through this work. The book traces the events and their corresponding medals through our current involvement in the Bosinia peacekeeping mission. The book also covers, in great detail, several of the more important commemorative medals which were often struck on a limited basis to account for the lack of appropriate official federal awards. In many cases, these commemorative medals reflect exacting craftmanship and unusual design features when compared to the campaign medals. All medals are exquisitely photographed in color with exception of a few of the rare commemorative medals, which are reproduced in black and white. The work, which is well organized and easy to read, proves to be an interesting and informative reference work for the collector of these Navy and Marine Corps medals. A value guide is included.
Size: 8 1/2"x11", over 180 color and B/W photographs, 88 pages.
Price - $19.95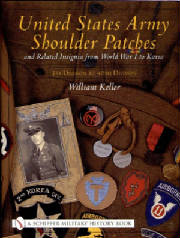 United States Army Shoulder Patches
From World War 1 to Korea (1st Division to 40th Division)
Begining in the Civil War, the U.S. Army sought to find an effective system to distinguish troops from different units. In the closing days of World War 1, it finally arrived at a practical and desirable solution with the adoption of shoulder patch or shoulder sleeve insignia. For more than eighty years, this often simple device, has been the source of pride and inspiration for servicemen everywhere. This new book ( the first of a multi-volume set), with a gallery of more than 800 color and sepia toned illustrations of orginal insignia and period photographs, documents the evolution of these special insignia. From the period begining with World War 1 to Korea War era, you won`t find a more indispensable guide for the study and collection of U.S. Army shoulder patches. Collectors will especially enjoy the handy reference section for determining whether a patch was made by an ally or a former foe. With special emphasis on theater made patches, this volume and most ones that will follow are sure to be a collector`s paradise. Size: 8 1/2"x11", 800 color photographs, 240 pages. Price - $49.95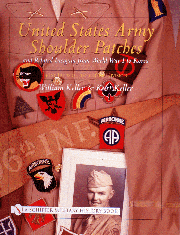 United States Army Shoulder Patches and Related Insignia
From World War 1 to Korea (41st Division to 106th Division)
Begining during the Civil War, the U.S. Army sought an effective system to distinguish troops from different units. With special emphasis on theater made patches, these volumes are sure to become essential references. Without a doubt, these books are the finest and most completes efforts to date on the subject. Size: 8 1/2"x11", 780 color photographs, 224 pages. Price - $49.95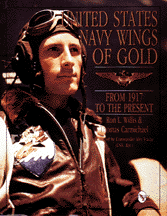 United States Navy Wings of Gold from 1917 to the Present
This book chronicles in full color the development of Navy wings, including variations in designation, design and makers from World War I to the present. Also including is a listing of 17,000 naval aviators by name and number up to 1942. Size: 8 1/2"x11", over 400 color photographs, 224 pages.
Price - $ 49.95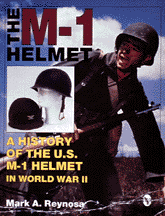 The M-1 Helmet
A History of the U.S. M-1 Helmet in World War II
This book presents over seven years of research into the history of the M-1 helmet during World War II, and provides the most comprehensive examination of its development and production. All aspects of M-1 helmet production are covered including: the helmet body, the fiber liner, the plastic liner, the parachutist helmet, helmet camouflage, helmet modifications, helmet paint schemes, and toy helmets. Every production helmet version is presented in full color photographs, including detail shots and production markings. Also included are World War II era photographs of the helmet samples, helmet production, and helmets worn in training or in action. This book is a valuable reference to both historians and collectors. Size: 8 1/2"x11", over 350 color and B/W photographs, 112 pages. Price - $39.95