Cataclysm
The War on the Eastern Front 1941-45
It has been more than 60 years since the end of the Second World War, a conflict that shaped the second half of the Twentieth Century. The significance of the war, and its relevance to the lives of so many, has generated a legacy of published material on the topic sufficient to fill a library. Yet disproportionately few publications deal exclusively with the true cauldron of the conflict - the brutal and uncompromising war between Germany and the Soviet Union; and fewer still attempt to provide, in a single volume, a comprehensive overview of that war from the commencement of Operation Barbarossa to the last battle in the rubble-strewn streets of Berlin. Drawing on information from Soviet archives that have only become available since the collapse of the Soviet Union, 'Cataclysm: The War on the Eastern Front 1941-1945', is unquestionably the most successful attempt so far to achieve that goal. As Winston Churchill acknowledged, the Red Army tore the guts out of the Wehrmacht, and the story of how that happened, a story in which the events at Stalingrad were just one part, deserves to be told with greater frequency and to be understood more widely. From the enormous amount of detailed information currently available on the military struggle on the Eastern Front, condensing the events of a war of such scale and duration into a succinct narrative in a meaningful and balanced way has long been a challenging task. Yet the mortal conflict between Hitler's Germany and Stalin's Russia is deserving of the effort. 'Cataclysm' focuses on the ground fighting along the Eastern Front, for it was overwhelmingly the ground war that determined the outcome of the conflict. With the aid of concise supporting maps, the book provides a clear and comprehensive account of the ebb and flow of a four-year long conflict conducted across a thousand miles of frontline in the vast region between the Elbe and Volga. Describing the conflict in a predominantly chronological manner, the book's narrative nonetheless maintains an easy, flowing style, relating with clarity the sequence of events as the interwoven campaigns on different sectors of the long frontline unfolded. For anyone wishing to understand the war in on the Eastern Front, 'Cataclysm' is essential reading, and the book will prove to be an invaluable addition to any bookshelf. Size: 6"x9", Pages: 400, 40 photographs, 40 color .Price -$59.95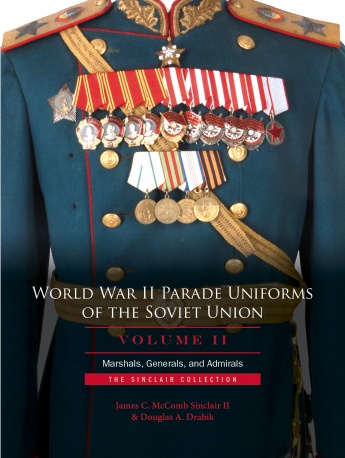 World War II Parade Uniforms of the Soviet Union • Vol.2: Marshals, Generals, and Admirals: The Sinclair Collection
The second volume of the Sinclair Collection brings into focus a new group of World War II Soviet uniforms. All uniforms are presented in full color – including one of Stalin's – and includes very rare examples of branch marshals and other flag ranks. A new archive of period photographs makes this a "must have" for the World War II Soviet collector and historian. Along with the first volume, this is the most comprehensive compendium available of World War II parade uniforms of the Soviet Union.
Size: 9" x 12" | 225 illustrations | 160 pages, Cost - $69.99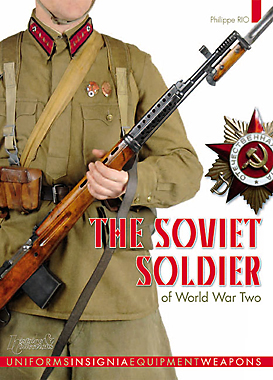 New
The Soviet Soldier of World War Two
1941 - 1945
Eight million Soviet soldiers died on the Eastern Front between 1941 and 1945. However, their history, uniforms, and day-to-day plight remain mostly undocumented to this day. Many misconceptions prevail, most of them stemming from the ferocious Nazi propaganda of the time. In reality, the Soviet soldier proved himself a resolute and well-equipped fighter. His uniform and equipment improved constantly during the Great Patriotic War, despite the shortcomings of a war-crippled economy.
There have been few books on the history and uniforms of the World War II Soviet Army. The interested reader will find here a coherent wealth of information on the Red Army's organization and orders of battle, its uniforms and equipment, and its materials (soft skinned vehicles, AFVs, Artillery, Signals...). The various guises of the Soviet soldier, from Barbarossa to the fall of Berlin, have been reproduced in color with more than 50 studio reconstructions of infantrymen, artillerymen, parachutists, tank men, women soldiers, marines, commissars, etc. A large variety of individual equipment, small arms, personal items, insignia and medals are illustrated in detail. The book also features hundreds of unpublished period photographs, many from the soldiers themselves. Hardback, 9" x 12", 176 pages, 800 color and B+W photos. Price - $44.95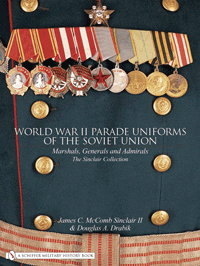 New
World War II Parade Uniforms of the Soviet Union

New for World War II Soviet collectors, this volume of Marshals', Generals' and Admirals' parade uniforms is the first comprehensive book on the subject. With hundreds of beautiful, large format full-color photographs, detailed close-ups of uniforms, and an archive of vintage photographs, this book will take you on a visual journey through the development of the Soviet World War II flag rank parade uniform. Many extremely rare and never before seen examples of named Marshals, Generals and Admirals uniforms, including many different branch variants, are shown in their full glory. A must for the serious World War II collector and a welcomed addition to any library, this book offers a stunning visual glimpse of some of the most beautiful uniforms of the Great Patriotic War. Size: 9"x12", 272 pages. Price - $79.95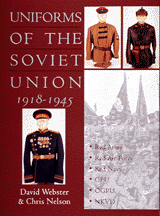 Uniforms of the Soviet Union 1918-1945
For the time a photographic study of the Soviet uniforms from the Revolution, Civil War, Purges, and the Great Patriotic War. Hundreds of full color highly detailed photographs of actual uniforms are combined with period black and white photographs. Actual uniforms of Marshals of the Soviet Union, to private soldiers of all services are to be found in this extensive volume.
Size: 9"x12", over 500 color and B/W photographs, 288 pages. Price - $69.95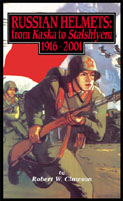 Russian Helmets-From Kaska to Stalshlyem 1916-2001
This volume, written by the world`s foremost authority on Russian combat helmets, is the first comprehensive study of the most ubiquitous helmet of the twentieth century. "Russian Helmets" provides the keys to accurate identification of the various madels of Russian and Soviet helmets, from steel to exotic metals and comprehensive history of each model issued in any significant number to the troops; in addition it notes numerous rare experimental models and evaluates their contriubution to the evolution of subsequent production models. Included are never before published photos of the various models as well as cutaway drawings and diagrams. this book provides a reliable comprehensive reference for every serious helmet collector or student of twentieth century warfare. Hard Cover: 128 pages, 161 photos.
Price - $34.95